Travel and Food, I was really interested in last night's Piers Morgan interview with Anthony Bourdain about Bourdain's
new CNN show "Parts Unknown".
What I was shocked to hear is the amount of Americans who are without a Passport; according to Bourdain, only 30% of Americans own Passports as compared to 60% of the rest of the developed world.
Shame on us America and no wonder we are regraded as ignorant and narrow-minded in other parts of the world
!
Get a Passport, chart a path to discovery and go see and taste the world!
and...take your kids with you!
Jacob has had his passport since he was 6 months old and I will guess that at 8, has been to more countries than the average American adult.
Not to mention, can probably give Bourdain a run for his money when it comes to eating crazy unusual food...can you say Barnacles!?
As for Bourdain, it has been nearly one full year since chef/author/badass Anthony Bourdain announced he'd be
leaving
his successful Travel Channel show "No Reservations" for a totally new series on CNN.
Well that series is Parts Unknown
and it premiers
on CNN this upcoming Sunday night,
April 14
, at 9pm EST/8pm CST.
Unlike "No Reservations." the new show will branch out from eating 24/7 to include sampling the destination and culture of countries previously out of reach or out of budget for Boudain.
The concept is simple, "Anthony Bourdain Parts Unknown takes you across the globe to discover exotic destinations while sharing Anthony's unique perspective and insights."
It may call to mind what The Travel Channel attempted with the No Reservations Bourdain spin-off,"The Layover," except thanks to Anthony's love of Twitter, @PartsUnknownCNN,
his fans already known that he's gone further afield than ever before, tweeting from places like Libya, Morocco, Granada (Spain), Peru, the Congo and Rwanda while shooting for "Parts Unknown".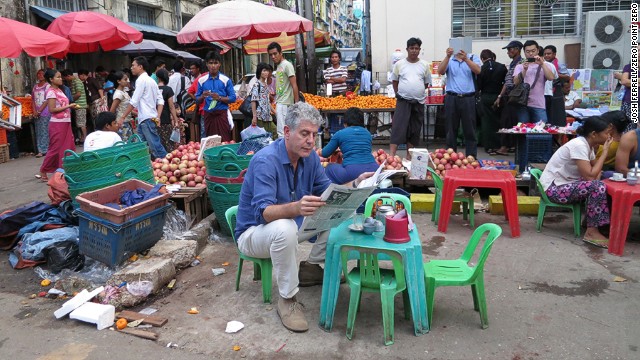 Can you say this guy has the best job in the world?
I can and a
lready
psyched
for the Congo episodes that Bourdain described as "Most difficult, grinding, frustrating rewarding shoot ever. A Dream fulfilled."
Now how to turn my love of travel and all of our
Adventures
into a show? Hmmm...