I love hummus, there I said it and not only did I say write it, I even wrote a little poem to the creamy yummy Mediterranean concoction!
I love hummus with carrots
I love that hummus is healthy and
Doesn't stick to my hips!
Maybe it's my Azerbaijani background, or maybe cause it's so delicious and good for you but, I eat it like ALL the time so, how is it that I never considered it as source for chicken?
Was looking for a new chicken breast recipe for the fam and came across the below recipe, thanks #GIMMESOMEOVEN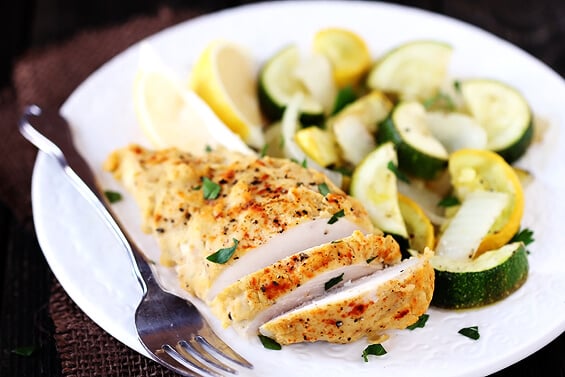 Try it, probably the best chicken dish I've ever made and earned the Jacob 2 thumbs up seal of approval!
PREP: 5 MINS COOK: 40 MINS
INGREDIENTS:
Below is the recipe with my personal modifications, go ahead and put your own spin on it and share what you've done.
4 boneless, skinless chicken breasts
salt and pepper...I used Season-all
Instead of 1 zucchini, 1 yellow squash & 1 medium onion, chopped...I used corn and shallots.
1 cup hummus, homemade or store-bought...I used Trader Joe's Roasted Garlic but any hummus will do and if you make your own well then, I want YOUR recipe.
1 Tbsp. olive oil
2 lemons...didn't have so didn't use
1 tsp. smoked paprika or sumac...replaced with garlic powder
DIRECTIONS:
Preheat oven to 450 degrees. Prepare one large baking dish or two smaller baking dishes with cooking spray.
Pat the chicken dry. Season the chicken breasts with generous pinches of salt and pepper or other seasoning. In a large bowl, toss the vegetables with olive oil until evenly coated. Season with salt and pepper.
If using one baking dish, place all of the vegetables on the bottom of the dish in an even layer. Lay the four chicken breasts evenly on top, then cover each chicken breast with the hummus so that the entire breast is covered.
Squeeze the juice of one lemon over the chicken and vegetables. Then sprinkle the pan with smoked paprika or sumac. Thinly slice the remaining lemon, and place the slices in between the chicken and vegetables if desired.
**If using two pans, use one for the chicken and one for the vegetables.**
Bake for about 40 minutes, until the chicken is cooked through and the vegetables are tender.
Well almost immediately and not before you arrange it on a pretty dish, take a few beautiful #foodporn pics and post to FB and instagram with the hashtag #AlyaBuzz.
Good luck keeping the family from poking and destroying your beautiful creation while you're attending to it!

Now dig in and Enjoy!