I've always been fascinated by Hollywood and as a kid, dreamed of attending the Academy Awards, winning an Oscar and most of all, having designers beat down my door dying to dress me in their fabulous duds!
As much as I love and appreciate the movies, when I watch the Oscars I watch mostly for the fashion and last night was no different except...Jacob was right by my side excited when movies and songs and actors that he was familiar with were snatching up awards.
No surprise since the other day he announced that he finally decided that when he grows up, he wants to be a "Directer-slash-Actor and in that order". An homage to Zoolander in case you didn't catch that!
While he was selecting his best picture, song and actor, I was scouring the red carpet for best dressed and after careful consideration, here are my top picks and...in that order!
Kate Hudson who will probably never win an Oscar of her own sure looked worthy of sharing the red carpet with the nominees in this ivory beaded

Atelier Versace gown

...
Fabulous from the front and back, Hudson is newly single and looked like she was ready to mingle...Jared Leto anyone?
Next up for me is
Charlize Thereon who honestly, can do no wrong and looked statuesque in this black Dior
complete with a plunging neckline and beautiful translucent train but...
the straps

or, see through panels that

cut off midway are weird...still #2 but why the panels???
Bringing a flash of color was 12 Years A Slave Best Supporting Actress Winner Lupita
Nyong'o
who o
pted for a custom pastel blue Prada that made her look like she was floating down the red carpet. I like the dress but hate the
headband that everyone oohed and aahed about so that landed her on my #3 spot...
Best Supporting Actress nominee, Jennifer Lawrence's orange-red Dior gown was stylish yet simple and you can never go wrong with that combination. I liked the colour but not a fan of peplum on her or anyone else for that matter...
What I AM a fan of is the $2 million Neil Lane necklace that she wore backwards...again!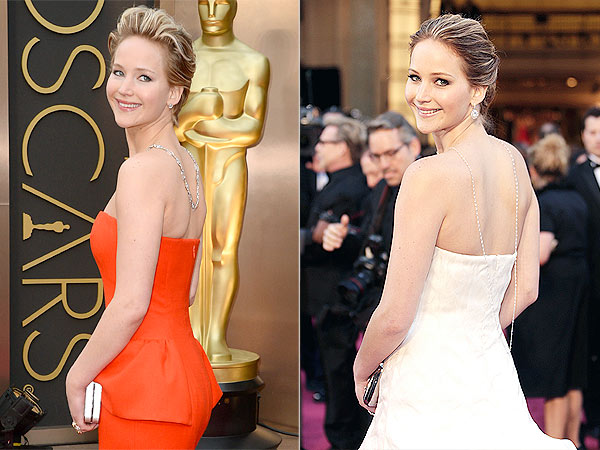 So, what do my Top 3 have in common? Plunging necklines of course, flaunt them if you've got them Ladies!
As for the biggest and best moments of the night?
In 1 word...Ellen!
From Pitt Popping Pizza...
to this
Epic Twitter-crashing Selfie
orchestrated by the host generated a record braking 2,972,385 re-tweets and counting!
Ellen ruled the Oscars...Love Her!